FREE WOMENS HEALTH CLINIC
Would you like to access a free health service?
We are committed to making sure women in our community have access to the health services that they need. The Hedland Well Women's Centre Women's Health Clinic facility is a free service provided by the centre's women's health nurse and offers a range of 30 minute appointments including:
– Cervical screening
– STI testing
– Pregnancy testing and unplanned pregnancy support and advice
– General health questions, discussions and referrals
– Health screening
– Blood pressure checks
– Body composition analysis
– Baby measurements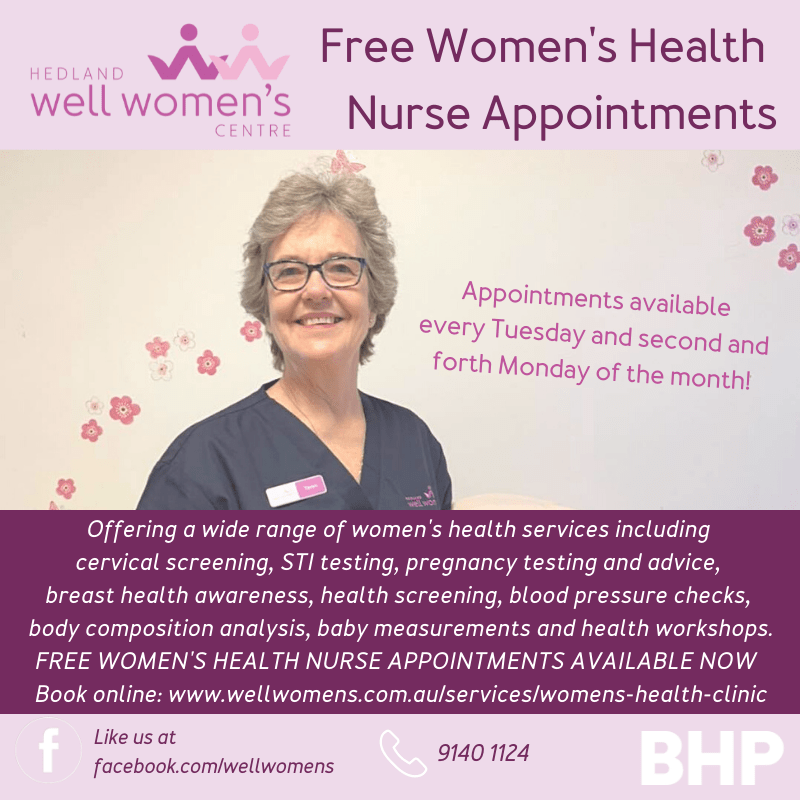 Don't let any of these barriers prevent you from getting your Cervical Screening Test done.
Always Time For Your Health
No Shame In Getting Screened
Want to know more about the Cervical Screening Process? Let our Nurse Taren explain!
If you would like more information or to book an appointment, contact us:

Phone: 08 9140 1124
You can also connect with us by sending us a private message on Facebook or email us at info@wellwomens.com.au
Every woman, of every age, is entitled to high-quality healthcare. If you believe you need to access one of these services, don't hesitate to get in touch.
Join or renew your membership for just $20 and enjoy access to all Centre services and programs and keep up to date with what's on through our monthly newsletter.