Women's Cancer Rehab & Pelvic Health Physio
The Women's Cancer Rehab & Pelvic Health Physio provides a full range of services designed to care, support and guide women through every stage of their cancer treatment and recovery. 
Physiotherapy helps patients throughout their cancer journey – pre-op, post-op and well into the future. Benefits women of all ages, fitness levels and mobility and is suitable after any type of cancer surgery or treatment.
We also offer services to support women with pelvic health concerns. 
For more information or to make an appointment, please contact us on 9140 1124.
What can Alice help with??
Cancer Rehabilitation
Post gynaecological and pelvic surgery: hysterectomy, uterine, cervical, ovarian, prolapse repairs
PFM assessment post operatively
Pre & post breast cancer surgery → addressing cording, lymphoedema management and prevention & rehabilitation of movement & strength
Fatigue & pain management
Return to exercise post surgery – Regain strength, mobility & posture
Reduce treatment (surgery or chemotherapy) related side effects
Learn exercise habits to prevent long term problems (cancer recurrence, cardiovascular disease, osteoporosis)
Bladder dysfunction
Stress urinary incontinence, overactive bladder & urgency, urge urinary incontinence
Pelvic floor muscle (PFM) training, bladder training, PFM assessment
Pelvic Organ Prolapse (POP)
Assessment & conservative management options
Postnatal & perimenopausal POP.
Appropriate exercise prescription with POP.
Bowel management
Faecal/ wind incontinence, obstetric anal sphincter injury (OASI) management.
Constipation
Pelvic pain, Endometriosis, Sexual pain & dysfunction
Pelvic pain management.
Vaginismus / Genito-pelvic pain penetration disorder (GPPPD).
Vulvodynia
Adenomyosis & Endometriosis pain management including post-surgery return to function.
Pelvic floor muscle release work and exercises
Antenatal
Pregnancy: pelvic floor & abdominal muscle assessment with Real Time Ultrasound (RTUS).
Musculoskeletal management: Pelvic girdle, pubic symphysis, SIJ & lower back pain, sciatica, carpal tunnel management.
Appropriate exercise prescription.
Postnatal
Pelvic floor and rectus abdominus diastasis assessment & management.
Perineal pain, episiotomy care, OASI management.
Post Caesarean scar tissue management.
Return to exercise & running programs
For more information or to make an appointment, please contact us on 9140 1124.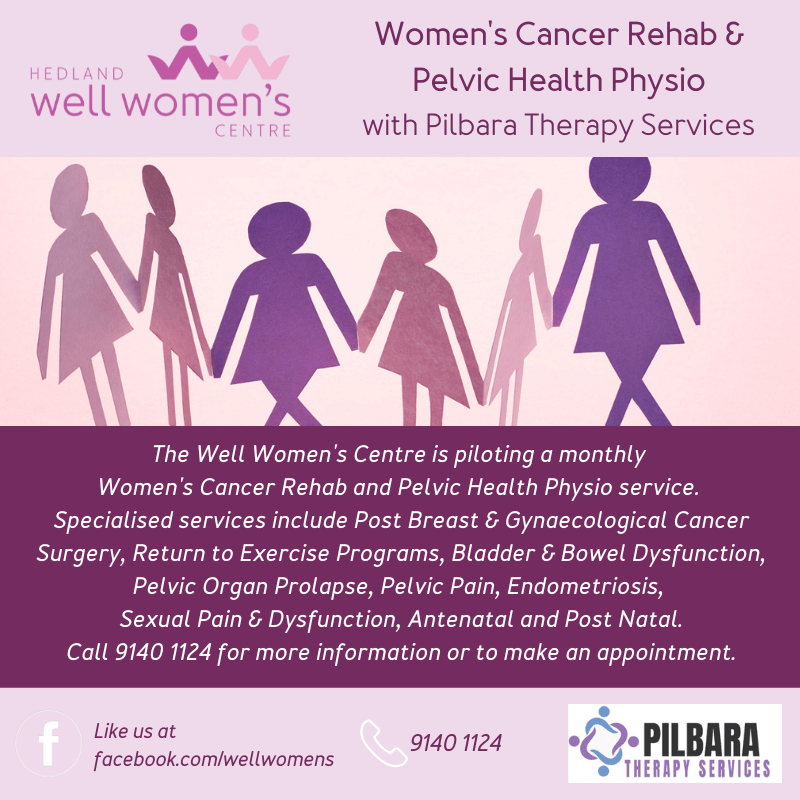 Join or renew your membership for just $20 and enjoy access to all Centre services and programs and keep up to date with what's on through our monthly newsletter.