With vital funds raised through our annual Pink Pilbara Breakfast, the Well Women's Centre offers a Cancer Support Service for all women and their families affected by cancer.
Our Cancer Support Coordinator is here to offer support to cancer clients, their families and carers, connecting you with other services that can help to make the journey a little easier.
The Well Women's Cancer Support Service offers:
– Cancer Support Staff
– Individual/Family Advocacy
– Cancer Rehabilitation Physiotherapy
– Counselling
– Cancer Support Events
We also offer a monthly Cancer Support Lunch, a safe and supportive group of women who know and understand what you are going through. Run by cancer support staff, these monthly meetings are for those who are needing someone to talk to and would like to share their journey with others. We welcome women impacted by cancer (past or current), or who are a carer or family member of someone on a cancer journey.
Please contact us to see how we can assist you, phone 9140 1124 or email support@wellwomens.com.au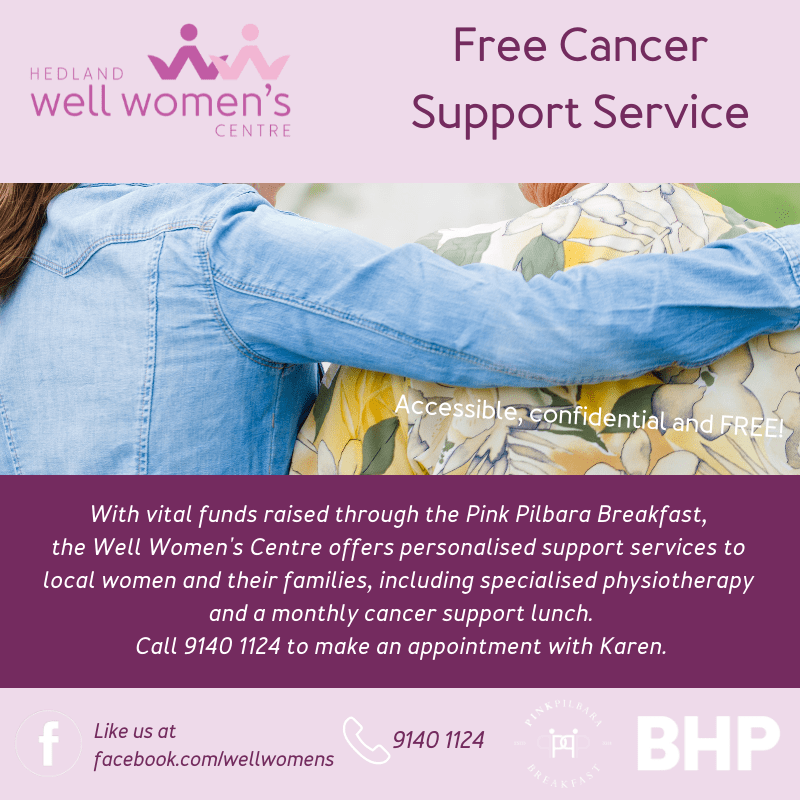 Join or renew your membership for just $20 and enjoy access to all Centre services and programs and keep up to date with what's on through our monthly newsletter.