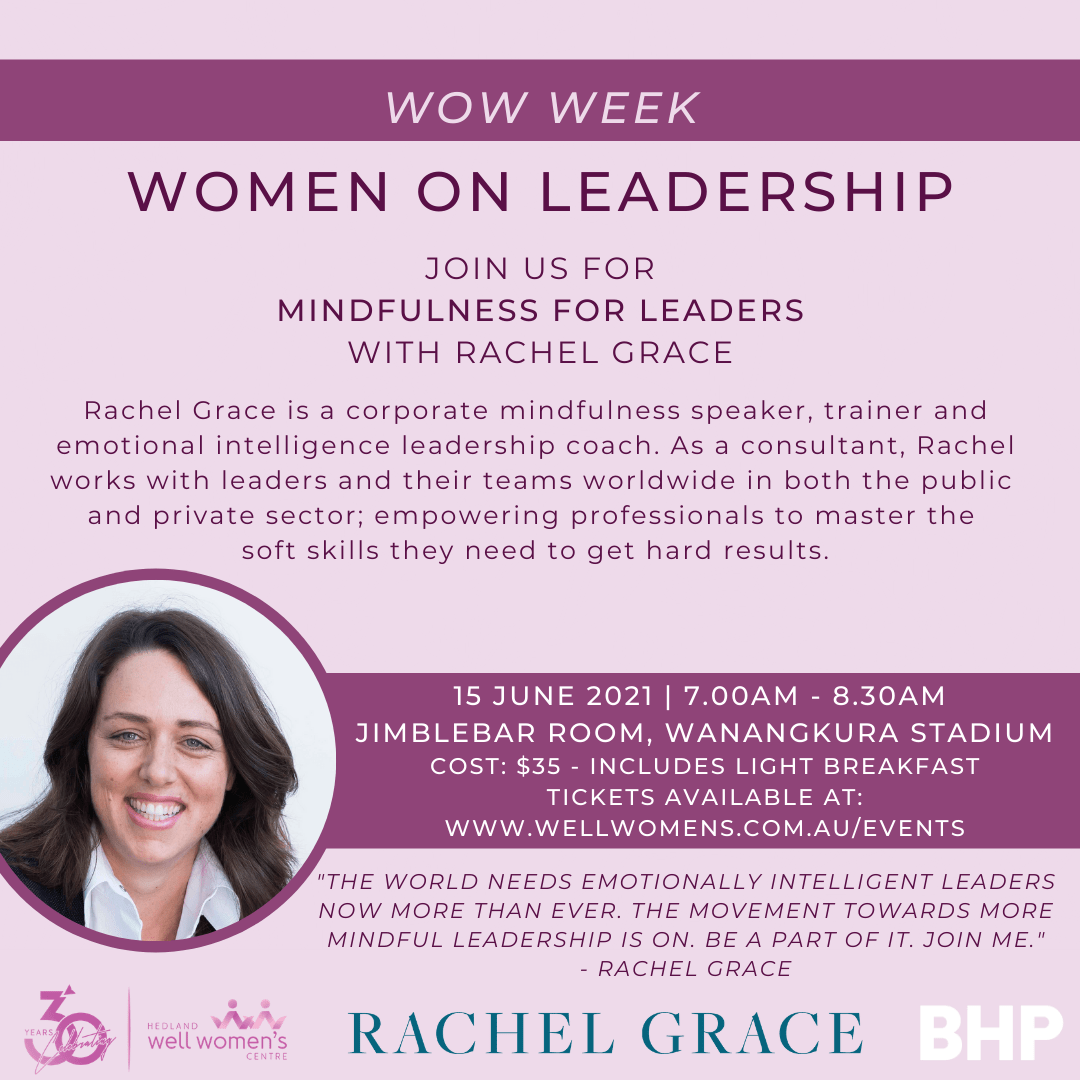 Mindfulness for Leaders with Rachel Grace
Rachel Grace is a corporate mindfulness speaker, trainer and emotional intelligence leadership coach. As a consultant, Rachel works with leaders and their teams worldwide in both the public and private sector; empowering professionals to master the soft skills they need to get hard results.
With 20-years personal meditation practice, training in psychology, experience in social science research and a powerful knack for communicating complicated concepts in a fun and engaging way, Rachel is proud to be a part of the worldwide movement cultivating more mindfulness and emotional intelligence for higher performance in individuals and organisations.
Mindfulness: It's not just hippy fluffy stuff
15 June 2021 | 7.00am – 8.30am 
Jimblebar Room, Wanangkura Stadium South Hedland
If you've ever longed to bring mindfulness into your work group, but you've been unsure about how to deal with cynicism, sceptics, criticism and the questions about the business case and scientific basis for mindfulness, then this highly successful 1-hour introductory presentation on mindfulness will be of value to you. Attendees will gain enhanced awareness, knowledge and capacity for the practical application of mindfulness in the workplace.
TESTIMONIALS FROM PAST ATTENDEES
"It was humbling to listen to your life's journey, a very well delivered and informative presentation and backed by research that breaks the stereotypes around mindfulness, meditation, living in the moment etc."

"That was the best talk I've ever been to."
Cost: $35, includes a healthy breakfast.
Please contact the Well Women's Centre's Program Coordinator on 9140 1124 for questions.