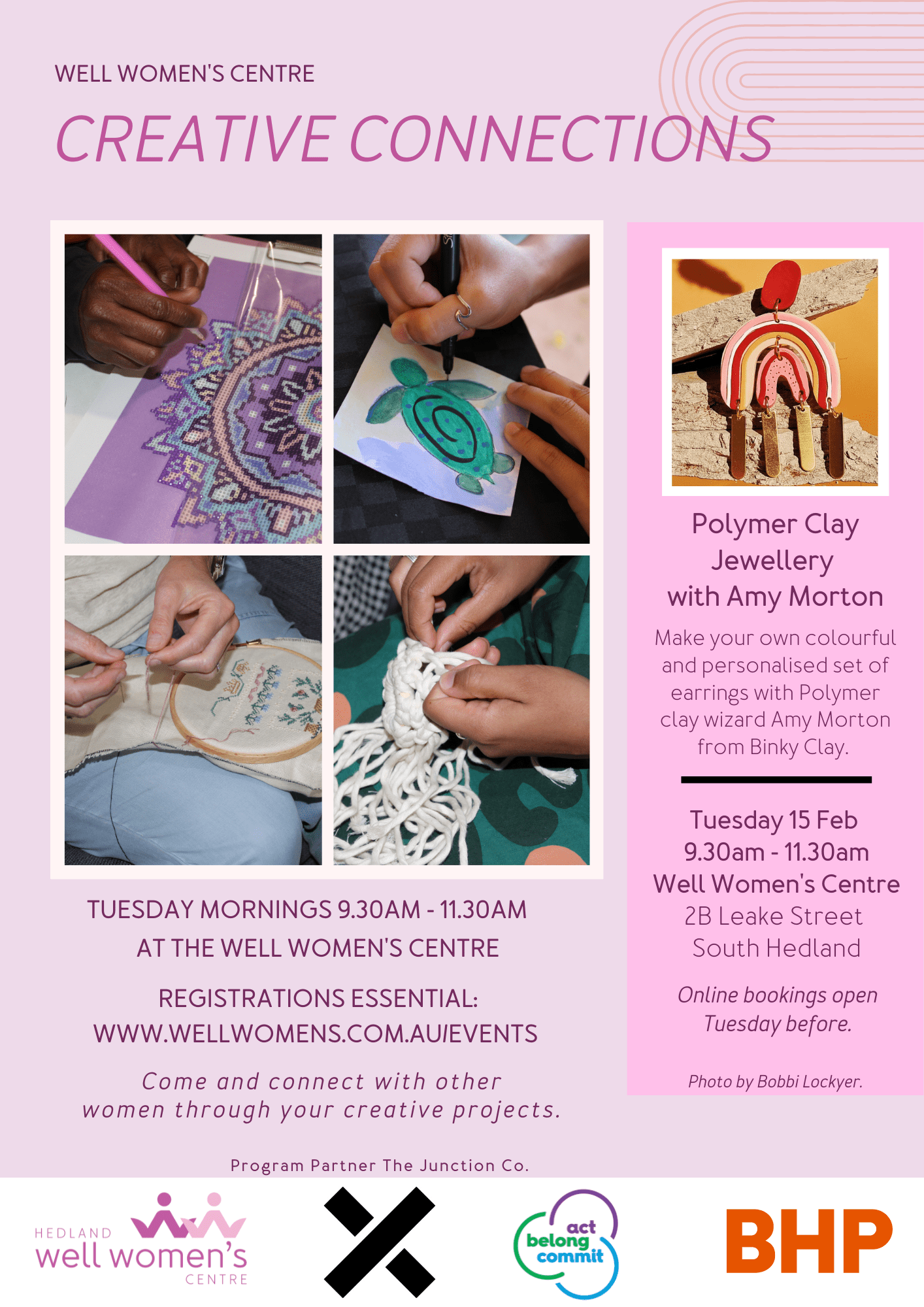 Creative Connections – Polymer Clay Jewellery
We are excited to have The Junction Co. facilitate a series of four creative workshops for our Creative Connections program…
Polymer Clay Jewellery
Tuesday 15 Feb | 9.30am – 11.30am
Well Women's Centre, 2B Leake Street South Hedland
Make your own colourful and personalised set of earrings with Polymer clay wizard Amy Morton. You will be the designer of your own creations, from fabricating templates for your designs, preparing the clay, working out and refining the shapes of your pieces. No skills required just bring your authentic self.
Bookings below essential.
ABOUT THE JUNCTION CO.
The Junction Co. is a regional arts organisation with a clear vision to engage, grow and empower regional creative industries. We deliver a raft of programs to the Pilbara community, online, at partner locations across the region, and through the Port Hedland Courthouse Gallery+Studio.
ABOUT THE FACILITATOR
Amy is a Pilbara based polymer clay jewellery designer who is inspired by the unique colours, patterns and breath-taking landscapes of northern Western Australia.
All of the Binky Clay jewellery pieces are designed and individually made by Amy in her Port Hedland based studio. Amy shares her experiences of living in rural Australia, "I love the unique aspects of everyday life in the Pilbara. Having ospreys nesting on the street light out the front of your house, hermit crabs crossing the road into your front garden and swimming in pristine water holes."
Come and connect with other women through your creative projects.
Sold out!